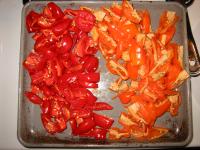 The garden is nearing the end of its season. The tomatoes have reduced their frenetic output to something nearly manageable, and the chilies are bright on the vine. This year, I have a disturbing number of habaneros . . . far more than is safe for any sane culinary pursuit. Happily, I am not excessively troubled with sanity, so I've processed the first batch and frozen them for the use during the long, coming winter.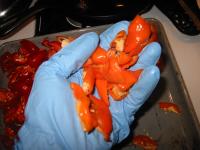 Sadly, I've lost the little plastic tag that revealed the variety of the red peppers in the above photograph. They're plenty hot, though not quite as fiery as their orange cousins to their right. It took about an hour and a half to sort through the harvest and prepare them for freezing. The garden also yielded several other kinds of peppers not pictured here, including a tasty Hungarian cultivar that fries up nicely and plenty of jalapeños. (A hint on jalapeños, by the way: if you grow them yourself, let them ripen all the way to bright red before harvesting. This adds a strain of sweetness to the heat, far superior to the watery, under-ripe green specimens you find in the the grocery.)
Handling cut chilies with bare skin is not recommended . . . really, not recommended. Despite a latex glove on my pepper-handling hand, my wrist was burning from the capsaicin spray after the first fifteen minutes.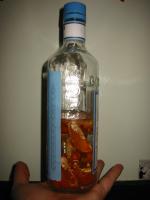 I've been wanting to make some habenero vodka, so this was the perfect opportunity to experiment. I had a partial bottle of inexpensive (Gordon's) vodka sitting around, so I popped sixteen quarter-pepper segments into around 400 mL. This is going to be hot! A sip immediately after I dropped them in had a faint heat to it, and another sample taken an hour later had a lovely burn.
The bottle is now sitting in the pantry, where it will infuse for several days before I take the next sample. I've seen suggestions that it sit up to half a year, but if I'm going to wait that long I'll want to be a bit more certain of the results.