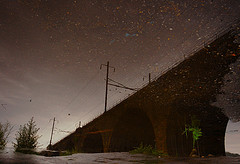 (Never fear, part 2 of "Towards a New Salon" is in preparation, and should be posted soon.)
Wishing to refresh my memories of its contents, I have been trying to locate my copy of Six Memos for the Next Millennium—without, alas, success. The vagrant book yet wanders.
With a bit of wandering on my own, I managed to scrape up a copy for immediate reference. The public library system in my county has eighteen libraries. While you can request a volume from another library, I typically prefer to visit them in person. Often, the smallest locations will have the only copy of some surprisingly obscure volume. Over the years, I've found an excuse to visit thirteen of them. That number has now increased by one, as the library computer system indicated that the Coatesville library had the only copy of Memos.
Coatesville is disheveled, depressed city, wounded by the withering of the steel industry; the downtown looks beaten and nearly abandoned. The atmosphere of the library is close and depressing, almost dank. I was happy to locate the Calvino and depart.
I had never driven Route 82 before, and as I headed out of the city to the north I was struck by the massive stone arches of the railroad bridge. I'll have to head back with my camera one of these days. (I did find a lovely photo of the bridge's reflection on flickr, which illustrates this post.)
I'd forgotten how much I enjoyed Memos the first time I read it. This time, I was quite surprised to come across a passage about computer science in the essay on "Lightness."
I look to science to nourish my visions in which all heaviness disappears. Today every branch of science seems intent on demonstrating that the world is supported by the most minute entities, such as the messages of DNA, the impulses of neurons, and quarks, and neutrinos wandering through space since the beginning of time . . . . .

Then we have computer science. It is true that software cannot exercise its powers of lightness except through the weight of hardware. But it is software that gives the orders, acting on the outside world and on machines that exist only as functions of software and evolve so that they can work out ever more complex programs. The second industrial revolution, unlike the first, does not present us with such crushing images as rolling mills and molten steel, but with "bits" in a flow of information traveling along circuits in the form of electronic impulses. The iron machines still exist, but they obey the orders of weightless bits.
And so the library's computer system led me to a city vitiated by the departure of the steel industry.
(Photo of the Coatesville railroad bridge courtesy Cyber Insekt.)